Weddings
A Day to Remember
Congratulations on your upcoming marriage.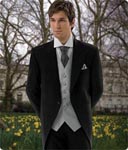 The Hennessys wedding service can help you plan your dream day, from the groom, best man and grooms men to fathers and even your pageboy.
Our collection includes many variations from traditional to contemporary to allow for distinctive personal style.
The memories and images of your wedding day will last forever so choosing the right look is paramount.
With our years of experience we endeavour to assist your and make your formal hire experience as effortless as possible.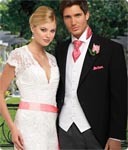 We recommend that the bride and groom make appointment to attend our new showroom to try on many styles to see which one is best suited to your wedding party. Sizing of your wedding party can then be organised and we will make an appointment with you for your wedding party to attend and final fit your suits for the wedding. At your final fit we will ensure the perfect fitting of all garments on your wedding party for your wedding day.
Here are some of the popular styles available from hennessys wedding collection.
We invite you to call and see one of trained consultants to view the full collection.