About Hennessy's Formal Wear For Men.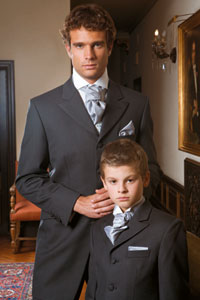 At Hennessys we have developed a personalised service in formal wear hire that our customers have enjoyed over the last 20 years.
We offer a collection that gives you choice and provides many variations on the traditional theme with distinctive personal styling Backed by classical designs for every occasion.
With our comprehensive range of formal wear Hennessy's has everything for your special occasion, day or night. Our skilled staff will be on hand to assist you in your choice, whatever the event.
Hennessy's has formal wear of superb quality which is generously cut and stylish with a complete range of accessories from silk trimmed top hats, silk waistcoats and neckwear and French pleated cotton hand tailored shirts to leather dress shoes.
The Hennessy Formal Wear service also includes our in house tailor service insuring a perfect fitting of all garments for your function.